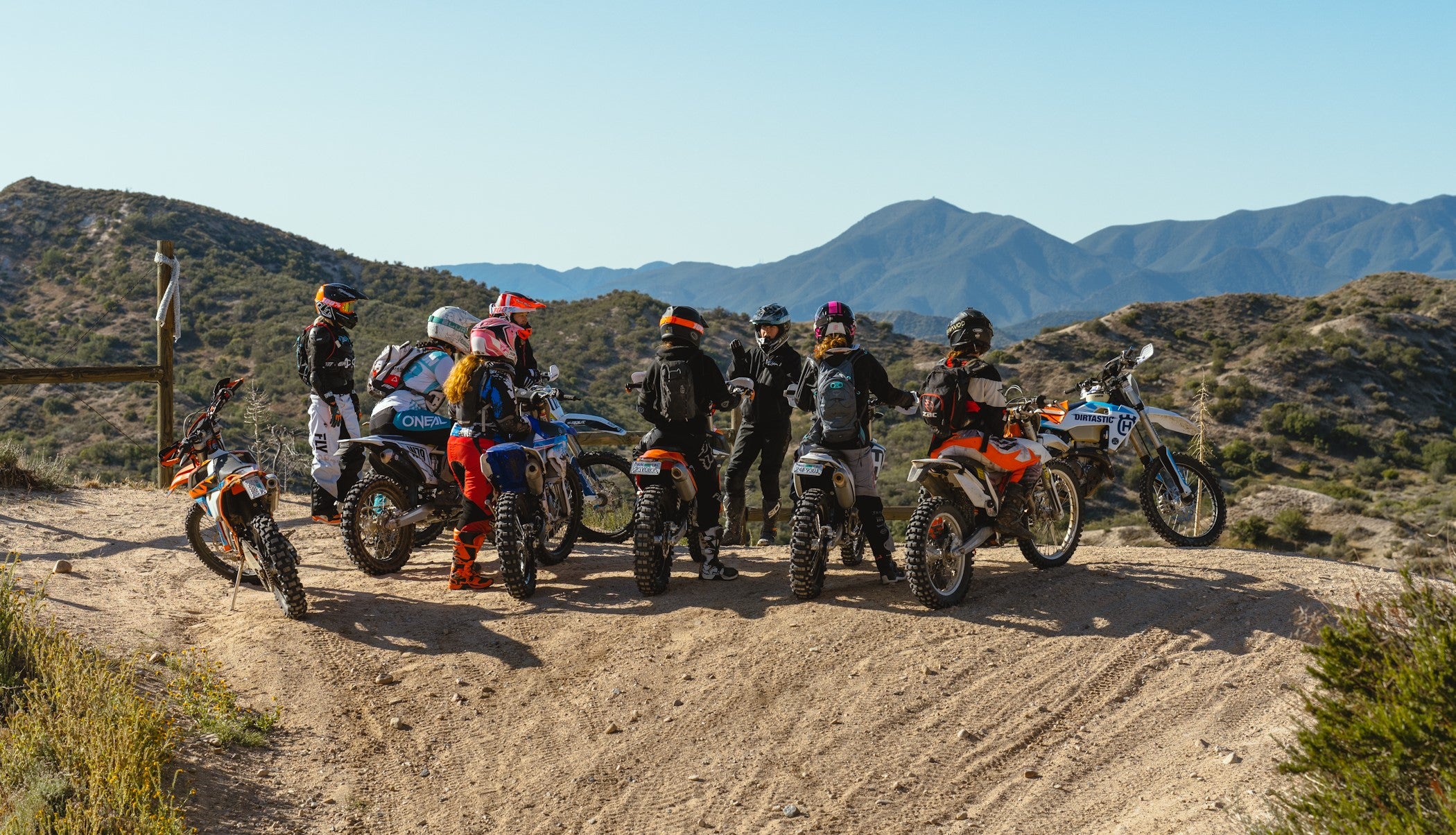 October 20-22, 2023
This event is geared to true beginners all the way to experts. Additional training will be on site for all skill levels. Come and meet like minded riders and have a great time doing so. 
This is a ladies only dirt bike & ATV campout for those who want to explore dirt and learn riding fundamentals. We cater to ladies who:
Have only ridden street bikes and want to see what dirt is about.
Have never sat on a motorcycle. We HIGHLY recommend that new riders start on a dirt bike (so bring those "bike curious" friends with you that always say "I wanna try"). This is a great learning event and we will have workshops, basics, etc. They do get full quick so stay tuned for signups! "How will I know when I can sign up?" - easy! Register for the event and you'll be the FIRST to know when that information is released.
Have a lot of experience as a dirt rider. We have some pro ladies coming out that you can hit the hill climbs and black diamonds with.
Yes, you have to be registered to attend this event. If you miss the deadline or it sells out, you'll have to join us next year.
The name on the ticket MUST match the person attending. No nicknames on tickets, we have 0 idea who "Speedy Susanna" is but she does sound cool.
As always, tickets are non-refundable under any circumstances and any handouts associated with event must be picked up in person at Babes in the Dirt event. We cannot ship "freebies", no exceptions.
No pets are allowed unless they are certified support animals.
Protective boots, helmet, goggles, and any motocross gear you own!
WATER! Make sure to bring plenty of water
Camping gear if you plan on staying the night (sleeping bag, headlamp, tent etc)
Clothes for the cold & the heat…you just never know!
Snacks! (always)
Drinks (the fun kind to enjoy when the bikes are shut down for the night).
Cash for food
Battery pack to charge phone
Extra toilet paper
Extra gas for your moto
A food truck with food for purchase (CASH ONLY)
Flushing toilets & sinks with running water (this water is NOT drinkable)
Huge pavilion w/ lighting
Designated fire pits for bonfires
Please remember there is no power at the site… like 0 for attendees to power their items.
Nightly entertainment
A detailed schedule will be released via email to those who have registered to attend the event closer to the event date. Info for rides, learning demos, Husky demos, rules regs, on site fun stuff, food truck, coffee menu etc will roll out between now and the event so please stay tuned to the blog and your email after you register.
Probably not. Sure, we like to party after the bikes are parked at the end of the day but if you are coming to Babes in the Dirt and are not interested in dirt bikes or off-roading, this event is not for you.
Babes in the Dirt is a private event and we do the best we can not to distract our guests so they can have the best time possible. If you want to shoot the event in any way for a media source, a brand, or other non-personal use, please email press@babesrideout.com for permission as no commercial photography or video of any kind is allowed unless approved by BRO. Images for your own use are 100% awesome and appreciated! No need to ask if it's for yourself and/or personal social media, we only ask that you be respectful to the other attendees :)
Simple! Scroll down and click on the Contact link. We'd love to hear from you!
Head over to our Facebook events page and post away!
99% of the answers are on the ticketing page. As for the other 1%, it's still being worked on. As long as you are registered, you'll get all the tiny details well in advance.
Quail Canyon - Lebec, ca
babes in the dirt
Our largest gathering of women off-road enthusiasts. Gear and Husqvarna demos, classes for new riders to advanced, private tracks and many miles of trails.