COME RIDE WITH US
Babes in the Dirt is focused on connecting off-road enthusiasts who share the same passion. We encourage all new riders to experience dirt first, where you'll learn from mistakes in a friendly environment and have fun doing it. Not new to the dirt game? Don't worry, our events provide good times for all skill levels. There's hill climbs and trails for every level of rider.
See you in the dirt! - A&A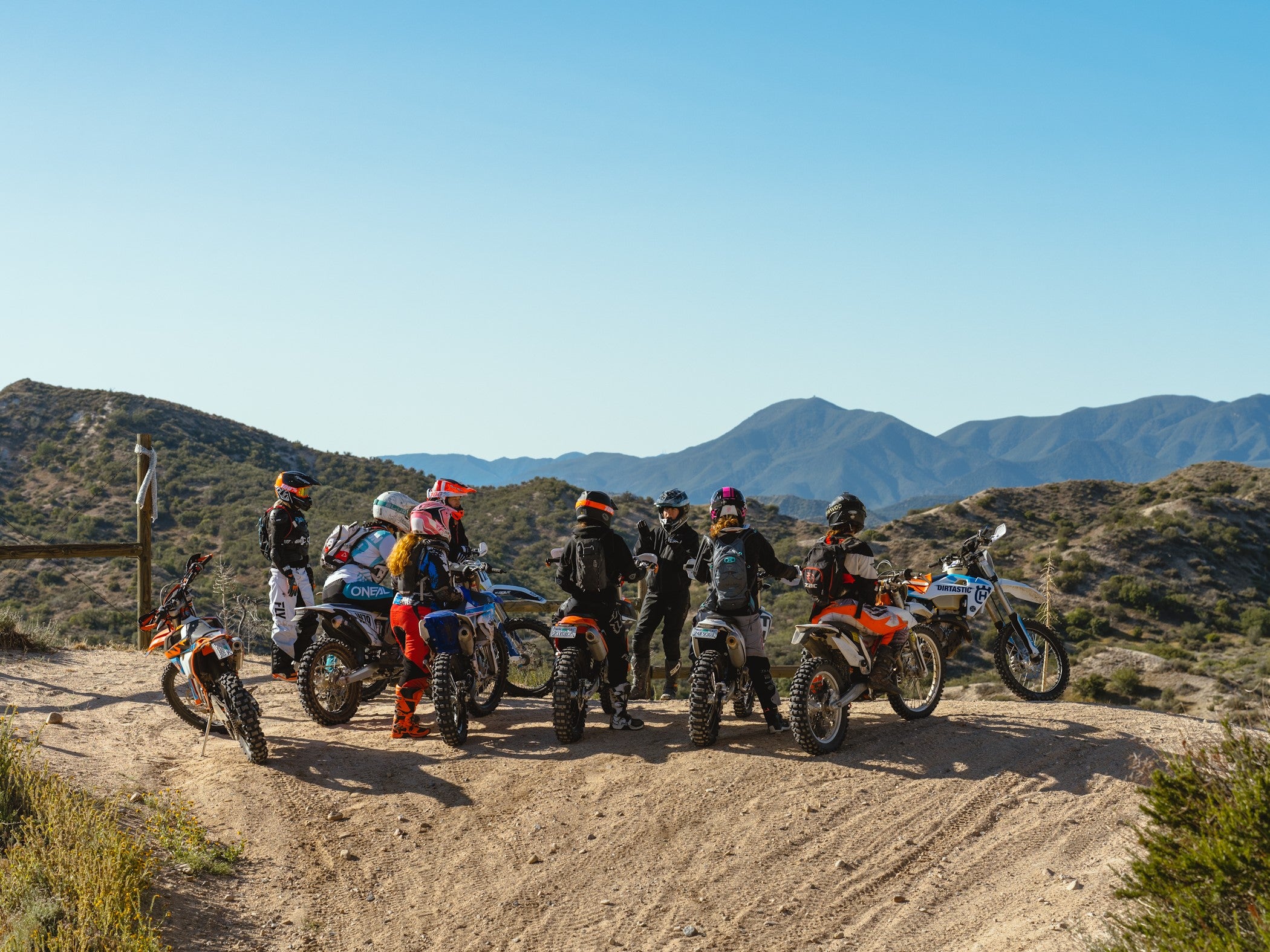 Babes in the Dirt - CA
Our largest gathering of women off-road enthusiasts. Gear and Husqvarna demos, classes for new riders to advanced, private tracks and many miles of trails.
Babes in the Dirt California & Dualsport Summer = 21+ ladies only
Fox Raceway x Babes in the Dirt Family Track Days = All ages! Entire family is welcome!
No pets are allowed unless they are certified support animals.
Probably not. Sure, we like to party after the bikes are parked at the end of the day but if you are coming to Babes in the Dirt and are not interested in dirt bikes or off-roading, this event is not for you.
Babes in the Dirt is a private event and we do the best we can not to distract our guests so they can have the best time possible. If you want to shoot the event in any way for a media source, a brand, or other non-personal use, please email press@babesrideout.com for permission as no commercial photography or video of any kind is allowed unless approved by BRO. Images for your own use are 100% awesome and appreciated! No need to ask if it's for yourself and/or personal social media, we only ask that you be respectful to the other attendees :)
Simple! Scroll down and click on the Contact link. We'd love to hear from you!
Head over to our Facebook events page and post away!
All Babes in the Dirt events have a zero-tolerance policy for hate speech or violence whatsoever & feel that it is important to reiterate that racism, homophobia, bigotry, aggressive or condescending behavior towards anyone is not welcome at any of our events and we have the right to refuse service at any time. If you feel unsafe, report it immediately.
100% yes! "Ladies Only" is the best we have found to make it clear who this event is dedicated to. We understand that gender is fluid and trust that the moto community can make the distinction as they have over our past 9 years hosting the events.
We sure would like to! If you know of a private venue, 40+ acres with full utilities and structures for gathering please shoot us an email with a contact and we will look into it!
Scroll to the bottom of the page and subscribe. We'd be thrilled to add you to our newsletters!
So Cal
Babes in the Dirt
Our flagship event attracts upwards of 500 ladies every year. Here's a quick peek at what it's like for attendees.