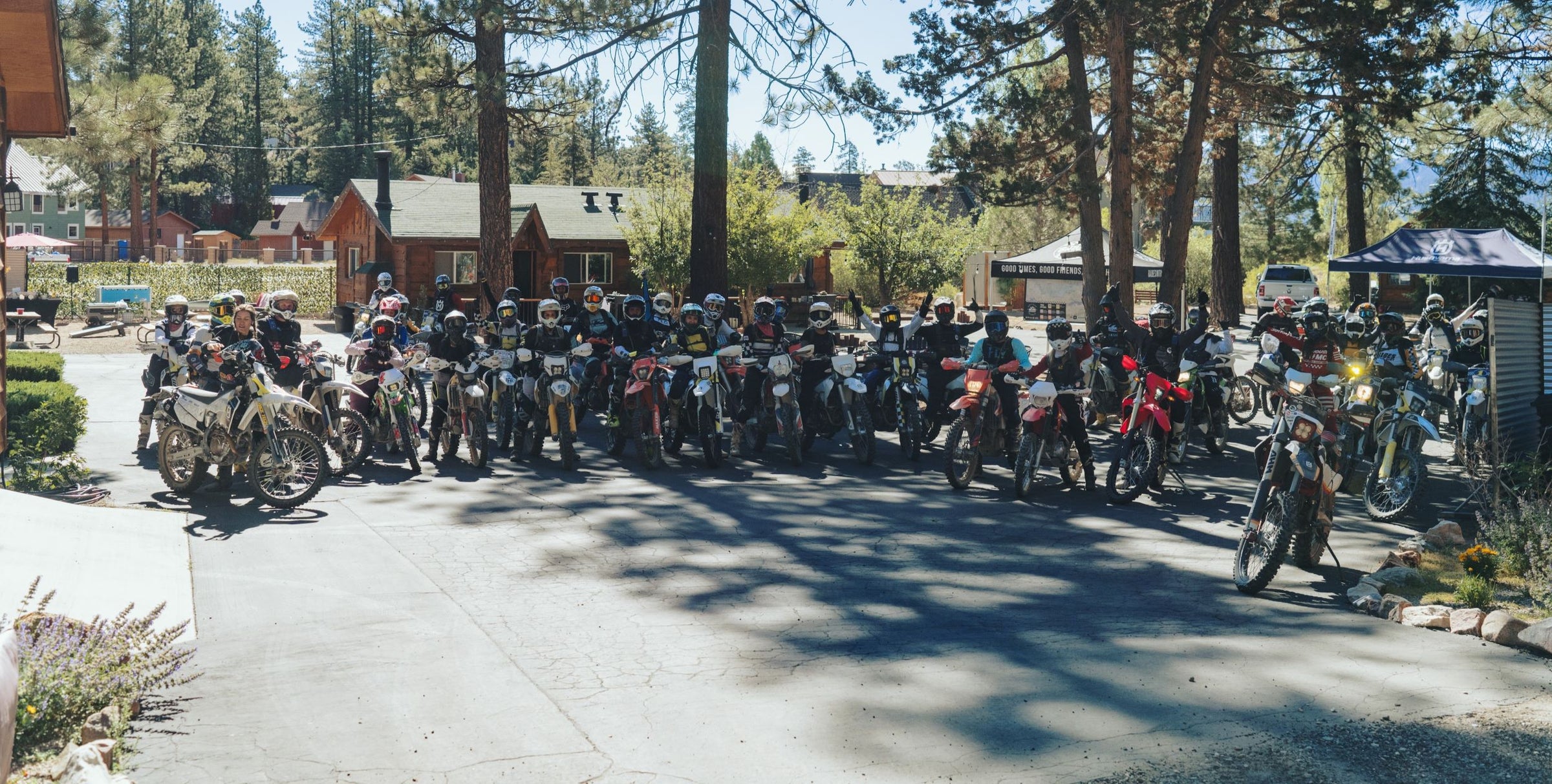 DUAL SPORT SUMMER
We are taking over The Outpost located in the town of Fawnskin, CA along the North Shore of Big Bear Lake for an all inclusive, ladies only, 4 day 3 night weekend dedicated to street-legal dirt bikes. This all inclusive experience includes guided dual sport trail rides curated by the amazing WLF Enduro, lakeside hangs, customized merch, gift bags, breakfast, trail lunch + dinners around the campfire, awards ceremony, night rides and so much more!
Yes, you have to be registered to attend this event. If you miss the deadline or it sells out, you'll have to join us next year.
This adventure is for capable off-road motorcyclists. We will spend very little time on paved roads (hence the need for your M1). We will be able to cater the rides to your skill set but you should be very comfortable in a wide variety of terrain already including rocks, sand, and hills.
4 days & 3 nights of accommodations (pick either a cabin or a tent spot below as price varies)
Meals via private catering: Thursday: dinner, Friday: breakfast, light lunch & dinner, Saturday: breakfast, light lunch & dinner, Sunday: breakfast. Don't worry, we can accommodate you if there dietary restrictions.
Guided dual sport trail rides on Friday & Saturday
Medic per group per ride
Super fun night ride hosted by Baja Designs
Access to Big Bear Lake
Exclusive Dual Sport Summer merch (you'll be stoked!)
Professional photos of your ripping the trails
Swag bag filled with goods …like REALLY good goods!
Awards ceremony Sat night
Codes from our partners exclusive to you only for bike and gear products
This is a dual sport only weekend so your bike must have a license plate (legally) and up to date with registration. We recommend street legal dirt-bikes vs adventure bikes or heavier bikes as the routes we have chosen aren't meant for ADV.
This depends on your riding ability. If you are very comfortable in a wide variety of terrain on this bike including, tight turns, rocky sections, steep up and down hills, off camber sections, water crossings, deep sand etc. then we will not stop you. However, the routes have been planned for plated dirt bikes so it will be up to you to decide your comfort level on a bigger machine.
The name on the ticket MUST match the person attending.  No nicknames on tickets, we have 0 idea who "Speedy Susanna" is but she does sound cool.
No, camping is for (1) person as food, trails guides, medics, accommodation fees etc. is factored in to the cost per person. This is the same for the cabin capacity limits, thank you for understanding!
No, any bike related issues including flat tires, broken levers, etc. will be up to you to resolve. We strongly suggest a full maintenance on your bike before you attend and use the opportunity to learn some trailside maintenance to resolve anything you might encounter.
No, we cannot accommodate trailers, RVS, Vans, or Toy Haulers as the space is way small and there is no room anywhere on the property for large vans, monster trucks, or towed vehicles. It's tiny!
As always, tickets are non-refundable under any circumstances and any handouts associated with event must be picked up in person at Babes in the Dirt event. We cannot ship "freebies", no exceptions.
This is for babes who are ready to hit the trails! The guides will ONLY give you help if you ask for it. No one is going to jump in and try to tell you what to do (which is refreshing) & we want to give you time to look at each obstacle & problem solve. There is no shame in asking "What gear should I hit that hill climb in", "What line do you suggest", "How do I need to position for the best traction on that smooth granite up and over". WE ARE HERE FOR IT! But never want you to feel "womansplained" to so rest assured we won't jump in or offer any advice unless YOU want it.

No, this is a private event for those who paid for the experience, with limited # of spaces per riding group to keep it safe, fun, and manageable.
No pets are allowed unless they are certified support animals. If you do need to bring a support animal, please realize that we are away on the trail for most of the day so you will need to make a plan to take care of your little angel.
No, this is a ladies only event.
Your M1 motorcycle license as well as valid insurance and registration for your dualsport machine. We will be riding on public roads and highways for small portions of this event, so you and your steed must be street legal.
Protective boots, helmet, goggles, and any motocross gear you own!
WATER! Make sure to bring plenty of water
Camping gear if you plan on staying the night (sleeping bag, headlamp, tent etc)
Clothes for the cold & the heat…you just never know!
Snacks! (always)
Drinks (the fun kind to enjoy when the bikes are shut down for the night).
Cash for food
Battery pack to charge phone
Extra toilet paper
Extra gas for your moto

Kids, unless they are over 21.
Dogs :( unless certified support animal.
Easy Ups
Marketing materials (flyers, stickers, banners etc unless you are sponsoring)
Your boyfriend / husband (he will have to find his own trails to braaap this weekend).
Meals that will be included are listed above. We will have water, beers, and a few extras but please bring whatever you need to stay happy, full, and non hangry. Each cabin has a kitchen with fridge, stovetop, cookware. Campsites do not have access to cooking devices however, a small propane stove is allowed.
Sorry! All accommodations & expenses are set with no room for discounts due to the many line items it takes to make this incredible weekend possible.
Head over to our Facebook events page and post away!
No stress, you'll see a link emailed to you with your confirmation which will need to be filled out by you (again) plus be filled out by your cabin mates. This asks for all the info we need (and yes a bit may be repetitive), but bear with us as its the only way to stay organized. Please take the time to really answer the questions and not half ass it XO ;)
Dual Sport Summer is a private event and we do the best we can not to distract our guests so they can have the best time possible. If you want to shoot the event in any way for a media source, a brand, or other non-personal use, please email press@babesrideout.com for permission as no commercial photography or video of any kind is allowed unless approved by BRO. Images for your own use are 100% awesome and appreciated! No need to ask if it's for yourself and/or personal social media, we only ask that you be respectful to the other attendees :)
Simple! Visit our Contact page. We'd love to hear from you!
99% of the answers are on the ticketing page. As for the other 1%, it's still being worked on. As long as you are registered, you'll get all the tiny details well in advance.
100% yes! "Ladies Only" is the best we have found to make it clear who this event is dedicated to. We understand that gender is fluid and trust that the moto community can make the distinction as they have over our past 10 years hosting the events.
All Babes Ride Out & Babes in the Dirt events have a zero-tolerance policy for any hate speech or violence whatsoever. We have never had a problem with this at any of our events but we feel that it is important to reiterate that racism, homophobia, bigotry, aggressive behavior towards anyone and/or anything that resembles it is not welcome ever at any of our events.
The Outpost - Big Bear, CA
Dual Sport Summer
Exploring some of Southern California's best single track on an all inclusive adventure.